AIR PURIFICATION: UV Lights in the heater are used to kill germs, viruses, mold spores, bacteria and fungi as they pass through the heater.
A SMART WAY TO HEAT: Built-in overheat protection, if it reaches a certain temperature of the heater, it will auto-off and standby.
INCREASE YOUR COMFORT: Remote control easily raise and lower the temperature, gives you a nice sleep with 12 hours timer function.
SMART SAVINGS: Economic Energy Saving Function(ECO). It can automatically help you save energy and lower your electricity bill.
UV lights for air purification
UV Lights in the heater are used to kill germs, viruses, mold spores, bacteria and fungi as they pass through the heater, keeping indoor air free from harmful contaminants is a major priority.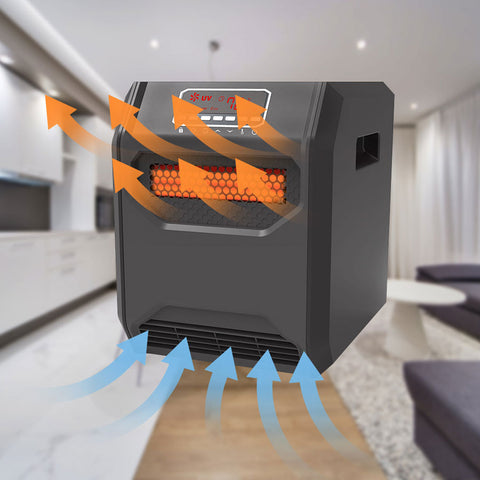 The heater fans rotate for wider coverage, heating your interior spaces quickly, evenly,safely, an advantage over panel heaters that blow in only one spot.Suitable for all seasons, especially during the chillier months of the year.Adjust the setting of thermostat from 50℉ to 90℉ to keep room comfortable.
1500W High heat, 1000W Low heat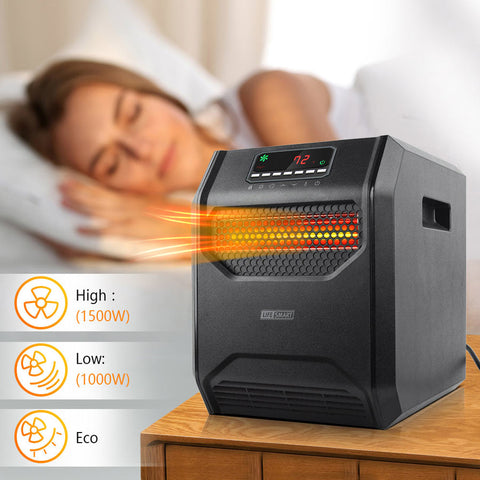 The heater gives you a nice sleep with 12H timer function, on timer mode, you needn't to get up in the middle of night to restart the bedroom heater, make your life easier.
Press the timer button repeatedly to change the number value between a range of 0 to 12 hours. The Timer light turns on when the timer is set.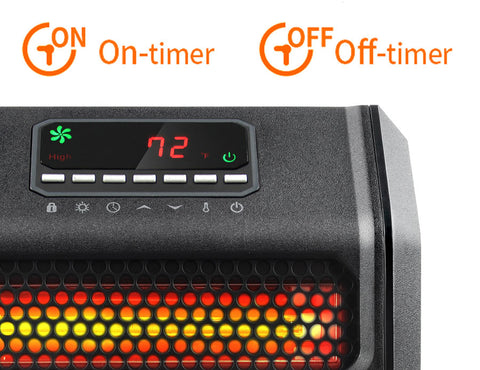 You can set the temperature with the Remote Control anywhere between 50°F and 90°F or between 10°C and 32°C. Once you have chosen the desired temperature, the heater will remain on until the room temperature increases to the temperature on the digital display.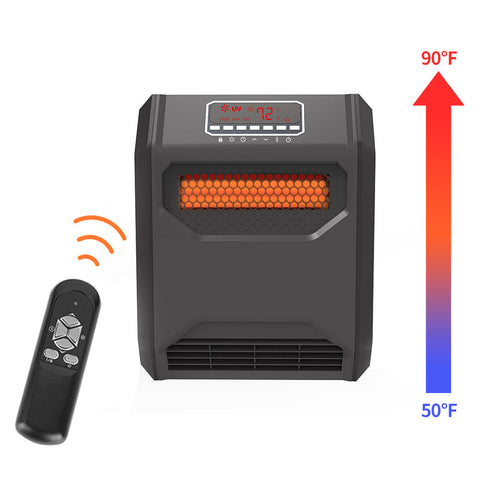 Overheat Protection
It's well designed for your safety. The automatic overheat protection system will shut the unit off when the parts of the heater overheat(176℉).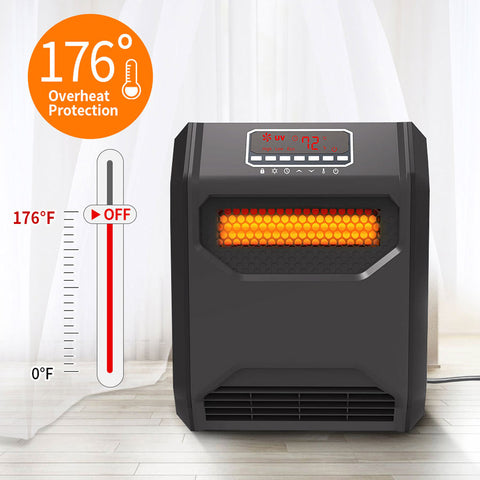 Lower Energy Costs
ECO mode is an Economic Energy Saving Function. When ECO mode is chosen, the heater will operate to maintain a constant warm 68°F.
It can automatically help you save energy and lower your electricity bill.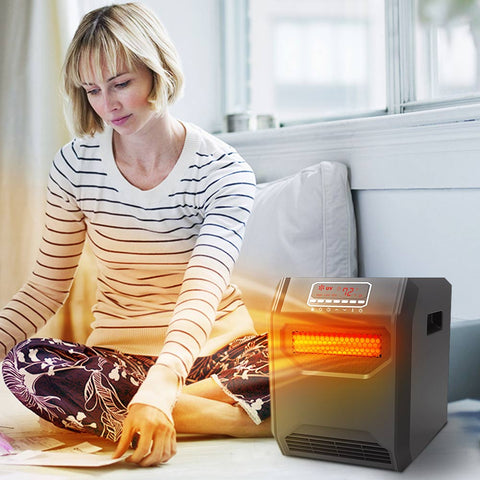 Tip-over Protection
This electric space heater comes with an ETL certification, which ensures that it is safe for daily use. Perfect for families with curious pets and active toddlers, our easy-to-use space heater features tip-over and overheat protection.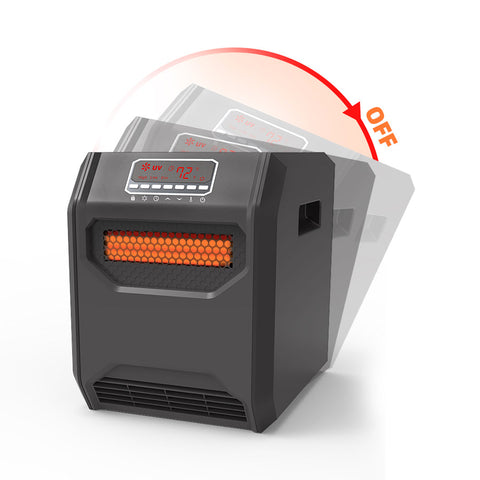 2-in-1, Warm and Natural Wind
Use the Low setting in spring, the Medium setting during chilly fall months, the High setting in winter, and cool off during summer with the fan-only mode.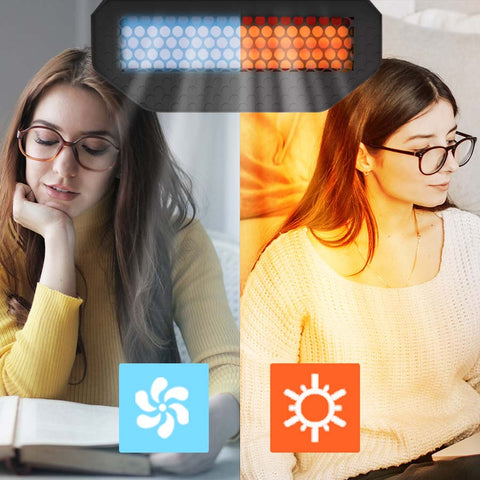 Silent enough for most people to use in a bedroom while sleeping, make you enjoy a comfortable sleep all night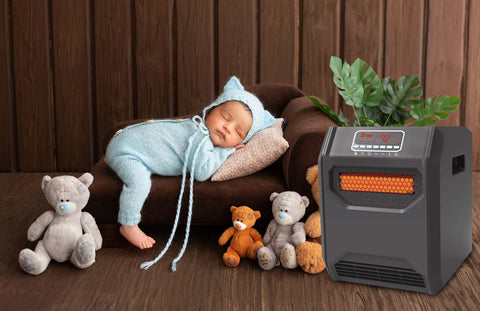 This heater is hot when in use. To avoid burns, do not let bare skin touch hot surfaces. Do not touch the metal protection net or cover the heater while it is working, and keep away from you at least 10 cm.

Extreme caution is necessary when any heater is used by or near children, invalids, pets, or when the heater is left operating unattended.Press and hold the child lock button located on the control panel for 5 seconds or remote control for 3 seconds.

Do not use outdoors. Exposure to outdoor elements such as rain, snow, sun, wind, or extreme temperatures may cause the heater to become a safety hazard. This heater is not intended for use in bathrooms, laundry areas.

To disconnect the heater, first turn the power button to the OFF position and then remove the plug from the wall outlet.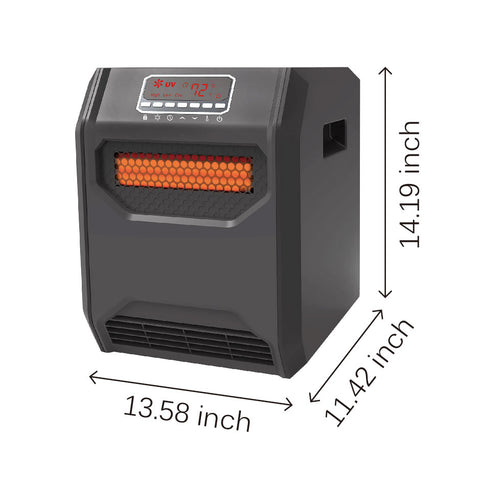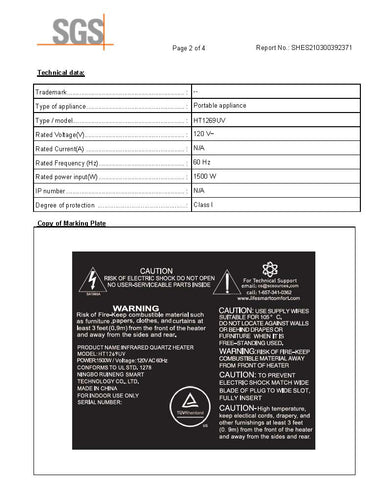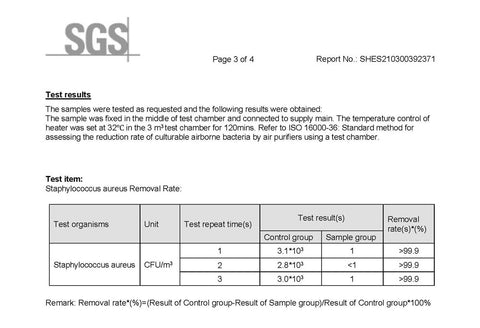 Specifications:
Modes: High heat, Low heat, Fan, ECO
Product Dimensions: 11.40 inch x 13.50 inch x 14.40 inch
Item Weight: 8.47 lbs.
Color: Black
Timer: 12 Hours
Rating Voltage: 120V/60Hz
Low Heating Mode: 1000W
High Heating Mode: 1500W
Display Screen: Digital LED display
Ideal Occasion: Indoor
Power Consumption: 1,000 W/1,500 W
Thermostat: Adjustable Thermostat
Safety Features: Built-in safety features, including overheat protection, self-regulating ceramic element, and cool-touch housing tip over safety switch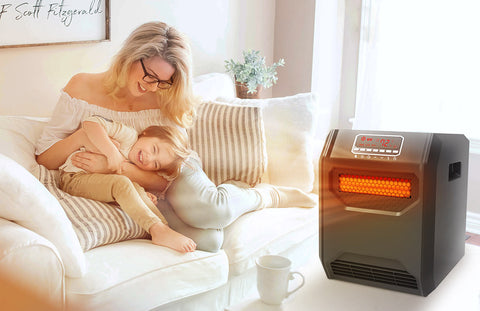 CAUTION:
1. DO NOT let liquid enter the heater.
2. DO NOT use alcohol, gasoline, abrasive powders, furniture polish, or rough brushes to clean the heater. This may cause damage or deterioration to the surface of the heater.
3. DO NOT immerse the heater in water.
4. Wait until the unit is completely dry before use.
5. If you will not be using the heater for a while, take the batteries out of the remote control and store for future use.
6. Store the heater in a cool, dry location when not in use. To prevent dust and dirt build-up, use the original packaging to repack the unit.